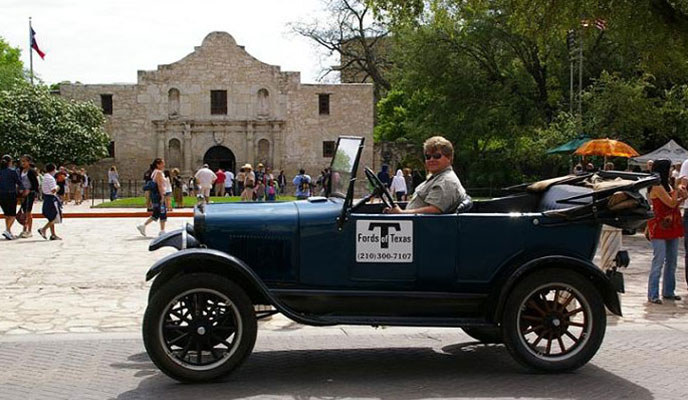 Daniel Bratcher at the Alamo in "Old Blue."
Timeless Ts is owned and operated on the eastern edge of San Antonio by Daniel Bratcher. Daniel has been involved with the Ford Model T hobby since his earliest years. He was introduced to Model Ts by close family friend Pete Reinthaler, who was president of the MTFCA (Model T Ford Club of America) at one time. Pete gave Daniel the bare chassis of a 1926 Ford Model T while Daniel was still in high school. Long before the internet made such projects much easier, Daniel found and restored a correct 1926 engine and transmission, wheels and an entire touring body. Daniel still owns and drives it to this day. The car, affectionately known as 'Old Blue' is one of the most frequently driven Ford Model Ts in the San Antonio area to this day.
Timeless Ts began as a hobby while Daniel was employed by a San Antonio charter bus company. Over the years he has helped just about every member of the very active San Antonio Ford Model T community. Daniel helped revive the club during his time as club president, seeing it bounce back from just a very few members to over 40 family memberships today. He now occupies the position of "T Fords of Texas President Emeritus."
Following the family's decision to sell the bus company, Daniel has begun operating Timeless Ts as a full time job. He does almost all the work that any Ford Model T might require himself, from rebuilding engines – including babbitting, transmissions, steering and the undercarriage. He can rebuild wheels and the other wooden components of a Ford Model T. Some work does get jobbed out, such as rebuilding generators, alternators and starter motors. If an engine needs to be re-bored, that do is done by a highly respected outside company, but Daniel does the tear down and the reconstruction including, as mentioned, the babbitting.
Daniel works on Ts both at his shop on the eastern edge of San Antonio and, when requested, at the owner's location. Getting a long abandoned T going again or simply repairing a transmission, sometimes it's just easier all around if Daniel comes to you. He can also help move your Ford Model T to his shop if that becomes the better option.
Daniel can appraise Ford Model Ts of behalf of both buyers and sellers in terms of both mechanical and appearance conditions and value. He can also act as an agent for both buyers and/or sellers.
You will find a full list of the services offered by Timeless Ts on the Services page.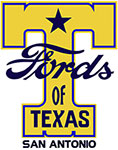 Click image to visit Daniel Bratcher's personal page on the T Fords of Texas web site.