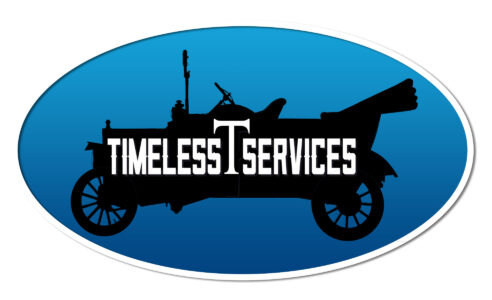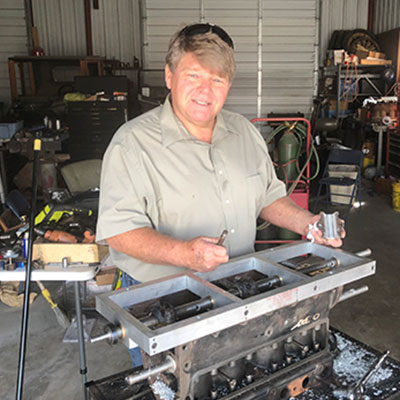 Daniel Bratcher doing babbitt work
Timeless Ts is a full service Ford Model T repair and sales business based in San Antonio, Texas.  Timeless Ts does  engine repairs and rebuilds, including babbitting; transmission repairs; adding starter motors;  wheel work including replacing spokes; rewiring; undercarriage- springs, axles, drive shafts and steering components;  brake work; replacing glass and installing a new roof.
Timeless Ts does job out certain aspects that require very specialized tools and skill sets, such as magnaflux testing a block for cracks, resurfacing it and boring out cylinders.  Likewise generators, alternators and starter motors will be sent to electrical component specialists.  Upholstery is another area where a dedicated specialist is required to provide the best result.  Timeless Ts will do the tear down and reinstallation of all these things but it's optimal that specialists do the actual work required for these critical components.
Please note, at this time, due to a busy work schedule, Timeless Ts is not accepting full restorations and/or bodywork and paint.  These services may be offered at a later date.
While most T owners can do a lot of work themselves, and enjoy the help of club members in completing projects, sooner or later, a T owner is going to run into a situation that is more than they can tackle alone.  That's where Timeless Ts comes in.  Owner Daniel Bratcher has pretty much done everything that needs to be done on a Ford Model T, from changing transmission bands to full ground up restorations.  He has the space, the tools and the experience to get any Ford Model T back where it belongs, running happily down the road.
While most people will bring their Ford Model T to the Timeless T repair shop on the eastern edge of San Antonio, Daniel is willing to come to your place to help diagnose and also do repair work.  It may be that it would be more efficient to move the T to the shop if the amount of work it needs is high.  If the T owner does not have a trailer or cannot get the Ford Model T onto it easily, Daniel can also help haul it to his shop.
Labor Rate
$70 – at the Timeless Ts shop or other locations
Call Out Fee
$70 (Not charged if 3 hours of work is authorized.)
Mileage rate
85 cents a mile.  Includes trailering your vehicle to/from Timeless Ts shop
Engine rental
$300 flat fee.  This will keep the T mobile while engine repairs are performed.
Vehicle rentals
$500 per day.  Travel fee if event is more than 50 miles from Timeless Ts
Vehicle appraisals
$70 an hour plus miles
Vehicle sales
10% commission based on gross sales price. Customer to pay commission to any auction sites, such as eBay.
Parts
Customer pays for all parts plus delivery fees.  Timeless Ts can order them or customers may supply their own from their own supply or from parts suppliers.
Authority
Timeless Ts will make purchasing decisions for additional parts as needed up to $150 without consulting the customer to expedite the repair work.
Payment
Customers will be expected to pay 50% of the estimated total cost of labor and parts (if ordered by Timeless Ts) up front.  Customer may be asked for a further advance payment if the total cost estimate increases due to unforeseen additional work being required.